Call Today!  1-435-691-0037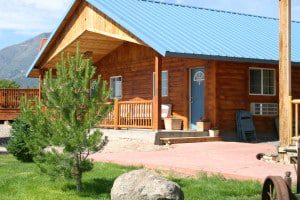 Our Miners Cabin is brand new and decorated with old mining pictures of Marysvale and antiques dated from the turn of the century and were used in Bullion City in the Tushar Mountain. It has two wrought iron queen beds in a room with a 14 foot ceiling with the walls wrapped in Aspen Timbers. The full bath in wrapped in knotty pine and has a tub and shower. This room includes a mini fridge, microwave, wet bar, coffee pot, AC and Direct Satellite and a 32 inch HD TV. Use our covered pavilion for all your cooking needs. Towels and linen are provided. Great Mountain views are included at no charge. Room rates are for double occupancy. Rates are adjusted according to occupancy.
---
Book the Miner's Cabin Now!